THE AMISH HISTORY
The Amish Mennonite movement descends from the 16th century fellowship known as the Swiss Brethren. The Swiss Brethren were Anabaptists, and are often viewed as having been a part of a Radical Reformation. Anabaptist means "one who baptizes again"; a reference to those who had been baptized as infants, but later adopted a belief in "believer's baptism", and then let themselves again be baptized as adults. These Swiss Brethren trace their origination to Felix Manz (ca. 1498–1527) and Conrad Grebel (ca.1498-1526) who broke from reformer Huldrych Zwingli.

The Amish movement takes its name from Jakob Ammann (c. 1656 —c. 1730), a Swiss Mennonite leader. Ammann believed Mennonites — peaceful Anabaptists of the Low Countries and Germany — were drifting away from the teachings of Menno Simons and the 1632 Mennonite Dordrecht Confession of Faith. Ammann favored stronger church discipline, including a more rigid application of shunning, the social exclusion of excommunicated members. Swiss Anabaptists, who were scattered by persecution throughout the Alsace and the Palatinate, never practiced strict shunning as had some lowland Anabaptists. Ammann insisted upon this practice, even to the point of expecting spouses to refuse to eat with each other, until the banned spouse repented. This type of strict literalism, on this issue, as well as others, brought about a division among the Mennonites of Southern Germany, the Alsace and Switzerland in 1693, and led to the withdrawal of those who sided with Ammann.

Swiss Anabaptism developed, from this point, in two parallel streams. Those following Ammann became known as Amish or Amish Mennonite. The others eventually formed the basis of the Swiss Mennonite Conference. Because of this common heritage, Amish and Mennonites retain many similarities. Those who leave the Amish fold tend to join conservative Mennonite congregations.

Amish Mennonites began migrating to Pennsylvania in the 18th century as part of a larger migration from the Palatinate and neighboring areas. This migration was a reaction to religious wars, poverty, and religious persecution on the Continent. The first Amish immigrants went to Berks County, Pennsylvania, but later moved, motivated by land issues and by security concerns tied to the French and Indian War. Many eventually settled in Lancaster County, Pennsylvania. Other groups later settled in, or spread to Alabama, Delaware, Illinois, Indiana, Iowa, Kansas, Kentucky, Michigan, Minnesota, Mississippi, Missouri, Nebraska, New York, Ohio, Maryland, Tennessee, Wisconsin, Maine, and Canada.

The Amish Mennonite congregations remaining in Europe slowly merged with the Mennonites. The last Amish congregation to merge with the Mennonites was the Ixheim Amish congregation, which merged with the neighboring Mennonite Church in 1937. Some Mennonite congregations, including most in the Alsace, are descended directly from former Amish congregations.

Most Amish communities that were established in North America did not ultimately retain their Amish identity. The original major split that resulted in the loss of identity occurred in the 1860s. During that decade Dienerversammlungen (ministerial conferences) were held in Wayne County, Ohio, concerning how the Amish should deal with the pressures of modern society. The meetings themselves were a progressive idea; for bishops to assemble to discuss uniformity was an unprecedented notion in the Amish church. By the first several meetings, the more traditionally minded bishops agreed to boycott the conferences. The more progressive members, comprising approximately two thirds of the group, retained the name Amish Mennonite. Many of these eventually united with the Mennonite Church, and other Mennonite denominations, especially in the early 20th century. The more traditionally minded groups became known as the Old Order Amish Mennonites, or simply Old Order Amish.

RELIGIOUS PRACTICES
Religious practices
The majority of Old Order Amish congregations do not have church buildings, but hold worship services in private homes. Thus they are sometimes called "House Amish." This practice is based on a verse from the New Testament: "The God who made the world and all things in it, since He is Lord of heaven and earth, does not dwell in temples made with hands…" (Acts 17:24). In addition, the early Anabaptists, from whom the Amish are descended, were religiously persecuted, and it may have been safer to pray in the privacy of a home.

Humility
Two key concepts for understanding Amish practices are their rejection of Hochmut (pride, arrogance, haughtiness) and the high value they place on Demut (humility) and Gelassenheit (calmness, composure, placidity) — often translated as "submission" or "letting-be". Gelassenheit is perhaps better understood as a reluctance to be forward, to be self-promoting, or to assert oneself. The Amish's willingness to submit to the Will of God, expressed through group norms, is at odds with the individualism so central to the wider American culture. The Amish anti-individualist orientation is the motive for rejecting labor-saving technologies that might make one less dependent on community. Modern innovations like electricity might spark a competition for status goods, or photographs might cultivate personal vanity.


Separation from the world
The Amish consider the Bible a trustworthy guide for living but do not quote it excessively. To do so would be considered a sinful showing of pride. Separation from the rest of society is based on being a "chosen race, a royal priesthood, a holy nation, God's own people"(1 Peter 2:9), not being "conformed to this world" (Romans 12:2), avoiding the "love [of] the world or the things in the world" (1 John 2:15) and the belief that "friendship with the world is enmity with God" (James 4:4).

Both out of concern for the effect of absence from the family life, and to minimize contact with outsiders, many Old Order Amish prefer to work at home. Increased prices of farmland and decreasing revenues for low-tech farming have forced many Amish to work away from the farm, particularly in construction and manufacturing, and, in those areas where there is a significant tourist trade, to engage in shopwork and crafts for profit. The Amish are ambivalent about both the consequences of this contact and the commoditization of their culture. The decorative arts play little role in authentic Amish life (though the prized Amish quilts are a genuine cultural inheritance, unlike hex signs), and are in fact regarded with suspicion, as a field where egotism and a display of vanity can easily develop.

Amish lifestyles vary between, and sometimes within, communities. These differences range from profound to minuscule. Some of the more conservative Beachy Amish congregations, which permit automobiles, may mandate that automobiles be painted black. In some communities, various Old Order groups may vary over the type of suspenders males are required to wear, if any, or how many pleats there should be in a bonnet, or if one should wear a bonnet at all. Groups in fellowship can intermarry and have communion with one another, an important consideration for avoiding problems that may result from genetically closed populations. Thus minor disagreements within communities, or within districts, over dairy equipment or telephones in workshops may or may not splinter churches or divide multiple communities.

Some of the strictest Old Order Amish groups are the Nebraska Amish ("White-top" Amish), Troyer Amish, and the Swartzendruber Amish. Most Old Order Amish people speak Pennsylvania German in the home, with the exception of several areas in the Midwest, where a variety of Swiss German may be used. In Beachy Amish settings, the use of English in church is the norm, but with some families continuing to use Pennsylvania German, or a variety of Swiss German, at home.

FAMILY LIFE
Family
Having children, raising them, and socialization with neighbors and relatives are the greatest functions of the Amish family. Amish believe large families are a blessing from God. The main purposes of "family" can be illustrated within the Amish culture in a variety of ways. The family has authority over the individual, not only during infancy and in youth, but throughout life. Loyalties to parents, grandparents, and other relatives may change over time but they will never cease. A church district is measured by the number of families (households), rather than by the number of baptized persons. Families take turns hosting the bi-weekly preaching service. Parents stress their responsibilities and obligations for the correct nurture of their children. They consider themselves accountable to the Lord for the spiritual welfare of their children.

The "family" provides the member with a status within the home and within the community. A person is more of a member of the family, rather than an individual. Each member has a job, a position, a responsibility, and a status. Chores within the home are normally divided by gender. The Amish traditional family provides much of the education for the child. Although the formal education ends after they finish eighth grade, the boy or girl is trained for their adult tasks. The boys will work with the father in the fields, in the barn, and around the out buildings. The girls work inside the home and garden, alongside the mother. The home and family become the school for "on the job" training. Amish youth, by and large, see their parents working hard, and they want to help. They want to learn and to be a productive part of the family.

"Christ is the head of man, and man is the head of woman. One of the greatest needs of our time is men who will assume the responsibility that God has placed on their shoulders. Not to accept that responsibility is to lie down on the job, to fail God's will." Family Life, Amish monthly magazine.

Sports and recreation are shared by all members of the family. There are church outings and family get-togethers where activities are entered into and shared by all.

Youth, courting, and Rumspringa
Rumspringa (Pennsylvania German lit. "running around") is the period of adolescence that begins the time of serious courtship, and, during which, church rules may be relaxed. As in non-Amish families, it is understood that there will likely be a certain amount of misbehavior, but it is neither encouraged nor overlooked. At the end of this period, Amish young adults are baptized into the church, and usually marry, with marriage permitted only among church members. Just a small percentage of the young people choose not to join the church, deciding to live the rest of their lives in wider society and marry someone outside the community.

The age for courting begins at sixteen (in some communities, the girl could be as young as fourteen). The most common event for boy-girl association is the bi-weekly Sunday evening sing, however the youth use sewing-bees, frolics, and weddings for other opportunities. The sing is often at the same house or barn as the Sunday morning service. Teens may arrive from several close-by districts, thus providing socialization on a wider scale than from a single church.

On the day of the sing, and after the chores are over, the young man dresses in his for-gut clothes, makes his appearance neat, and ensures his buggy and horse are clean. A sister, or sister's friend may ride with him, but usually not his girlfriend. At the sing, boys are on one side of a long table, the girls on the other side. Each person is able to announce their choice of a hymn, and only the faster ones are chosen. Conversation takes place between songs. The formal end of the sing is about ten o'clock, after which there is a great deal of talking, joking, and visiting. The boys who don't have a girlfriend may pair up with a Maidel (girl). Following this, the boy takes the girl home in his open topped courting buggy.

Marrying a first-cousin is not allowed among the Amish, and second-cousin relationships are frowned upon, though they may occur. Marriage to a "Schwartz" cousin (first cousin once removed) is not permitted in Lancaster County.

The onset of courtship is usually not openly discussed within the family or among friends. Excessive teasing by siblings or friends at the wrong time is considered invasive. Respecting privacy, or at least pretending not to know, is a prevailing mode of behavior, even among parents.

Weddings
Weddings are typically held on Tuesdays and Thursdays in November to early December, after the harvest is in. The bride wears a new blue linen dress that will be worn again on other formal occasions. She wears no makeup, and will not receive an engagement or wedding ring because the Ordnung prohibits personal jewelry. The marriage ceremony itself may take several hours, followed by a community reception that includes a banquet, singing, and storytelling. Newlyweds spend the wedding night at the home of the bride's parents. Celery is one of the symbolic foods served at Amish weddings. Celery is also placed in vases and used to decorate the house instead of flowers. Rather than immediately taking up housekeeping, the newlywed couple will spend several weekends visiting the homes of friends and relatives who attended the wedding.

Retirement
When the Amish choose to retire is neither a set nor fixed time. Considerations of the person's health, the family's needs, and personal desires all play an important part in determining when retirement may occur, usually between the ages of fifty to seventy. The elderly do not go to a retirement facility; they remain at home. If the family house is large enough they continue living with everyone else. Oftentimes there is an adjacent dwelling, called the Grossdaadi Haus, where grandparents take up residence. Retired people continue to help with work on the farm and within the home, working at their own pace as they are able. This allows them independence but does not strip them of family involvement.

The Amish method of retirement ensures that the elderly maintain contact with family and relatives. Loneliness is not a problem because they keep meaningful social contacts through various community events, such as frolics, auctions, weddings, holiday, and other community activities.

If the aged become ill or infirm, then the other family members take up caring for them. The elderly parents once helped raise the younger members, therefore the younger family care for them in their old age.


LIFESTYLE AND CULTURE
Amish lifestyle is dictated by the Ordnung (German, meaning: order), which differs slightly from community to community, and, within a community, from district to district. What is acceptable in one community may not be acceptable in another. No summary of Amish lifestyle and culture can be totally adequate, because there are few generalities that are true for all Amish. Groups may separate over matters such as the width of a hat-brim, the color of buggies, or various other issues. The use of tobacco (excluding cigarettes, which are considered "worldly") and moderate use of alcohol are generally permitted, particularly among older and more conservative groups.

Modern technology
The Older Order Amish are known for their avoidance of certain modern technologies. Amish do not view technology as evil, and individuals may petition for acceptance of a particular technology in the local community. In Pennsylvania, bishops meet in the spring and fall to discuss common concerns, including the appropriate response to new technology, and then pass this information on to ministers and deacons in a subsequent meeting. Because of this flat governing structure, variations of practice develop in each community.

High voltage electricity was rejected by 1920 through the actions of a strict bishop, as a reaction against more liberal Amish and to avoid a physical connection to the outside world. Because of the early prohibition of electricity, individual decisions about the use of new inventions such as the television would not be necessary. Electricity is used in some situations when it can be produced without access to outside power lines. Batteries, with their limited applications, are sometimes acceptable. Electric generators may be used for welding, recharging batteries, and powering milk stirrers in many communities. Outdoor electrical appliances such as riding and hand-pushed lawn mowers and string trimmers are used in some communities. Some Amish families have non-electric versions of appliances, such as kerosene-powered refrigerators. Some Old Order Amish districts may allow the use of thermal solar panels.

Amish communities adopt compromise solutions involving technology that seem strange to outsiders. Gas-powered farm equipment, such as tillers or mowers, may be pushed by a human or pulled by a horse. The reasoning is that Amish farmers will not be tempted to purchase more land to out-compete other farmers in their community, if they have to move the equipment manually. Amish farmers employ chemical pesticides, chemical fertilizers, and artificial insemination of cows.

The Ordnung is the guide to community standards, rather than doctrine that defines sin. For example, the four Old Order Amish communities of Allen County, Indiana, are more conservative than most; they use open buggies, even during the winter, and they wear black leather shoes even in the hot summer.

Restrictions are not meant to impose suffering. Disabled people are allowed to use motorized wheelchairs; electricity is allowed in the home for medical equipment. Those who break the rules may be given many months to resolve the problem so that they can use a computer to complete a business project or remove electric wiring from a new house.

Although most Amish will not drive cars, they will hire drivers and vans, for example, for visiting family, monthly grocery shopping, or commuting to the workplace off the farm — though this too is subject to local regulation and variation. The practice increases the geographic reach of the Amish, and decreases isolation: a horse can travel only about 25 miles (40 km), and then he or she must rest for a considerable period, restricting the Amish to a radius of 12.5 miles (20.1 km) from home. Moreover, a horse and buggy can only sustain 10 mph (16 km/h) over an extended distance, and thus is impractical for emergencies. Regular bus service between Amish communities has been established in some areas, and train travel is accepted.

The Old Order Amish tend to restrict telephone use, as it is viewed by some as interfering with separation from the world. By bringing the outside world into the home, it is an intrusion into the privacy and sanctity of the family, and interferes with social community by eliminating face-to-face communication. Amish of Lancaster County use the telephone primarily for outgoing calls, with the added restriction that the telephone not be inside the house, but rather in a phone "booth" or small out-building placed far enough from the house as to make its use inconvenient. These private phones may be shared by more than one family. This allows the Amish to control their communication, and not have telephone calls invade their homes, but also to conduct business, as needed. In the past, the use of public pay phones in town for such calls was more common; today, with dwindling availability of pay phones because of increased cell phone use by the non-Amish population, Amish communities are seeing an increase in the private phone shanties. Many Amish, particularly those who run businesses, use voicemail service. The Amish will also use trusted "English" neighbors as contact points for passing on family emergency messages. Some New Order Amish will use cellphones and pagers, but most Old Order Amish will not.

Clothing
The common theme amongst all Amish clothing is plainness; clothing should not call attention to the wearer by cut, color, or any other feature. Rather than using buttons, zippers, or velcro, hook-and-eye closures or straight pins are used as fasteners on some dress clothing. Snaps are used on everyday clothes, and plain buttons for work shirts and trousers. The historic restriction on buttons is attributed to tradition and their potential for ostentation. In all things, the aesthetic value is plainness. Some groups tend to limit color to black (trousers, dresses) and white (shirts), while others allow muted colors. Dark blue denim work clothing is common within some groups as well. The Old Order Amish often sew their own clothing, and work clothing can become quite worn and patched with use.

Women wear calf-length plain-cut dresses in a solid color. Aprons are often worn at home, usually in white or black, and are always worn when attending church. A cape, which consists of a triangular piece of cloth, is usually worn, beginning around the teenage years, and pinned into the apron. In the colder months, a long woolen cloak may be worn. Heavy bonnets are worn over the prayer coverings when Amish women are out and about in cold weather, with the exception of the Nebraska Amish, who do not wear bonnets. Girls in some areas may wear colored bonnets until age nine; older girls and women wear black bonnets. Girls begin wearing a cape for church and dress up occasions at about age eight. Single women wear a white cape to church until about the age of thirty. Everyday capes are colored, matching the dress, until about age forty when only black is used.

During the warmer months, many children will go barefoot, even while attending school.

Men typically wear dark-colored trousers, some with a dark vest or coat, suspenders (in some communities), broad-rimmed straw hats in the warmer months, and black felt hats in the colder months. Married men and those over forty grow a beard. Moustaches are forbidden, because they are associated with European military officers and militarism in general. A beard may serve the same symbolic function, in some Old Order Amish settings, as a wedding ring, and marks the passage into manhood.



Copyright: All information and images are from Wikipedia.

Amish family riding in a traditional Amish buggy
in Lancaster County, Pennsylvania, USA.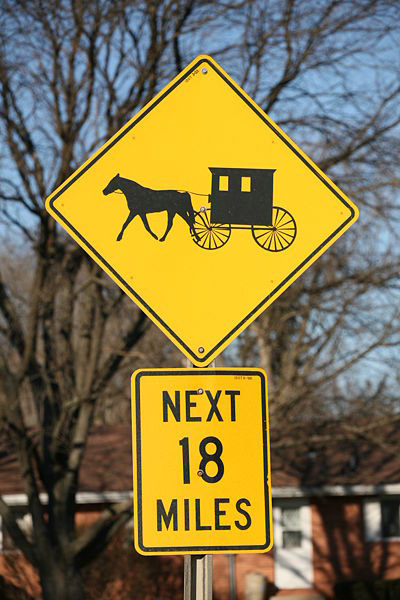 Signs erected in areas with Old Order Amish,
Old Order Mennonite or members of a few different Old
Order 'Brethren' groups, alerting motorists to the
presence of horse-drawn vehicles.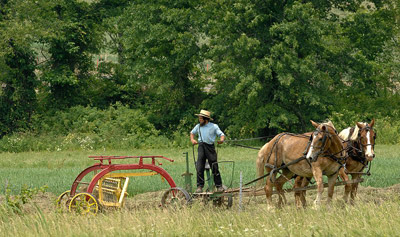 Amish man raking hay.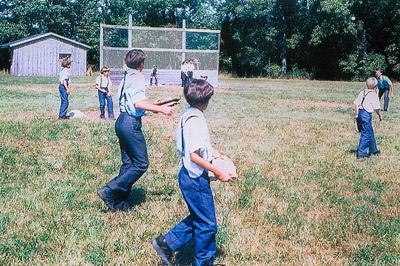 Amish children playing baseball.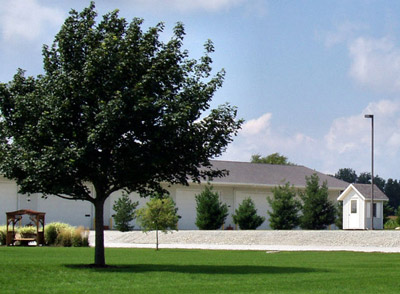 Telephone booth set up by an "English" farmer for
emergency use by local Amish families.




Modern and Amish transportation in
New Wilmington, Pennsylvania.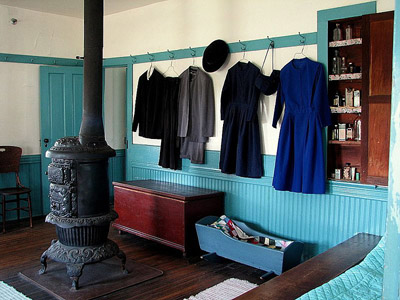 Amish household.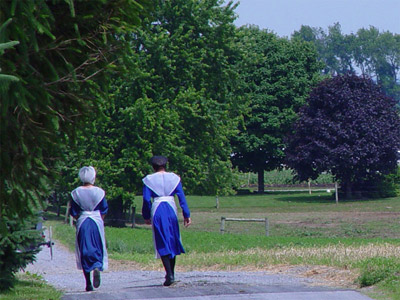 Amish girls in Lancaster County, Pennsylvania.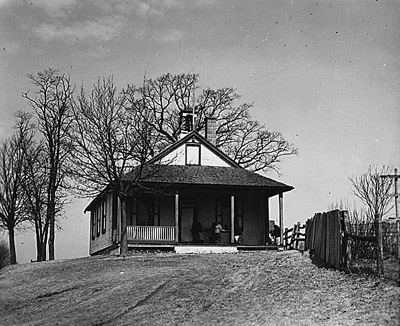 Amish schoolhouse in Lancaster County, Pennsylvania in 1941.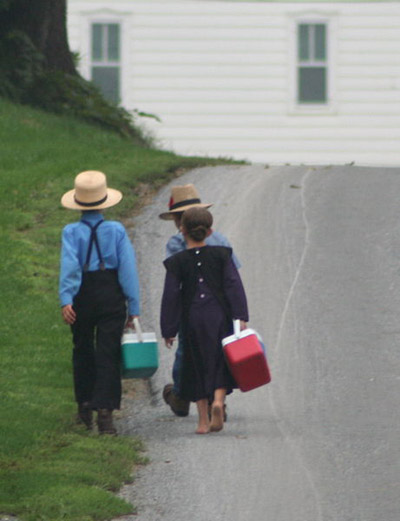 Amish school children.